Here's our Affiliate Newsletter for March 2015.  If you didn't receive this, and you're interested in joining our affiliate program, please click here to get started.
Here's what's in your Chrometa Affiliate Update for March 2015…
Major New Version "v5" on the Way…
New iPhone and Android apps…
New "Passive Timekeeping" Infographic (with Affiliate Link Embedded)…
and February Commissions Paid
New "Passive Timekeeping" Infographic (with Your Affiliate Link Embedded)
The notion of "passive" timekeeping can be challenging to describe. So, we created this Infographic to assist:
https://chrometa.leaddyno.com/affiliate/content
(here's a preview…)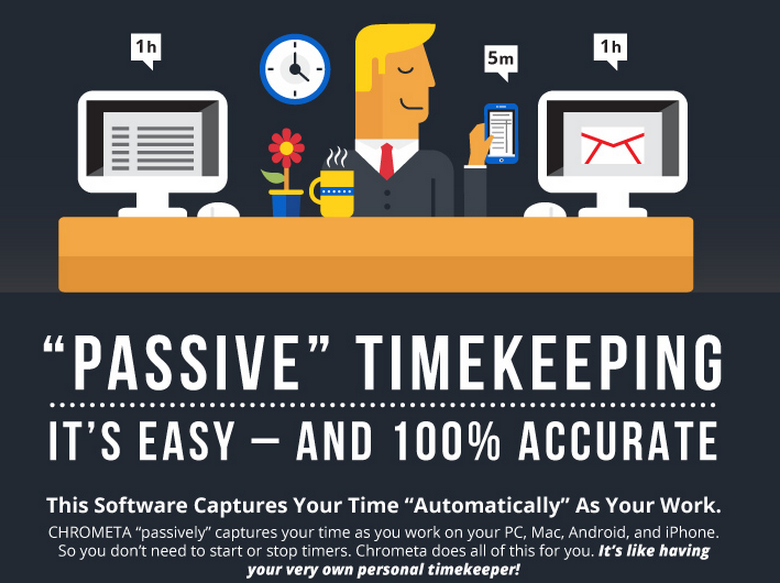 The linked version above already has your affiliate link embedded. Which means you can just copy the HTML and post it to your website or blog.
I've also updated the "one-click" social sharing from your Affiliate Dashboard… so that you can just click to share it on social media. As always, you can track your progress on your affiliate dashboard here:

February Commissions Have Been Paid
If we owed you $100 or more at the end of February, we sent payment via PayPal. Let me know if you didn't receive it, or would prefer to arrange an alternate form of payment.
As you probably know, you can see your sales and commissions in "real-time" on your Affiliate Dashboard here: https://chrometa.leaddyno.com/
Chrometa for iPhone is Here (and Android Now Captures Text Messages)
As a reminder, our iPhone app is now here… and our Android app now captures text messages.
And if you're kind enough to leave us a review in the Google Play Store or Apple's iTunes Store, we'll credit $50 to your affiliate account as a thank you. We do appreciate your help in leaving reviews.
Also by popular demand we have brought our Verizon-sync for iPhone users BACK! If you're interested in this feature, just reply back to this email and we'll get you setup.
Chrometa "v5" on the Way… and More Integrations, Too
Our "web app" interface is getting a facelift – it's biggest one since 2012. Our goal here is plain and simple – to make it easier to categorize your time entries to the right projects. Preferably automatically, if possible.
Stay tuned for a "beta" opportunity announcement on Chrometa v5.
Also we now have a beta integration running with Tabs3 and QuickBooks Online, too. With more integrations on the way… we'll be sure to let you know first!